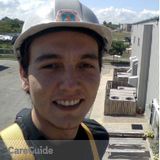 Cameron H
Looking for a Plumbing Company to take me on as a apprentice
Plumber Job in Hamilton, Ontario
Incentives for you for taking me on as an apprentice. Up to 40,000$ over 4 years in a refundable tax credit(maximum 10,000$ per year) Another tax credit that is non-refundable for a maximum of 2000$ per year to help offset ten percent of my wage. Lastly; a 1000$ grant once I complete my apprenticeship training. I currently have my Basic Level 1 in Plumbing and experience installing rough-ins with sump-pits, back-flow preventers, floor drains and water-mains with curb-stops and main shut offs . Contact me at:
[email protected]
or on my cell at 289-442-... to get my resume. Thank you for your time. Cameron H Cameron Harrod ________________________________________ 51 Griffith Drive, Grimsby, ON, L3M 5L--...
[email protected]
Objective To secure employment in the plumbing trade with the goal of becoming an apprentice Education Mohawk College, Stoney Creek Campus, Stoney Creek, ON May 2015 – October 2015 Plumber – (306A Trade Code) Pre-Apprenticeship Certificate Training Program – Funded by the Province of Ontario Program includes: Basic Level 1 In-School Reportable Subjects - Tools & Piping Methods – Level 1 - Plumbing Systems – Level 1 - Workplace Safety Rigging and Hoisting – Level 1 - Trade Calculations – Level 1 - Welding – Level 1 Grimsby Secondary School, Grimsby, ON June 2008 Graduated Ontario Secondary School Diploma Certifications - Working with Heights Certificate / Man Lift / Scissor Lift – Certificate - National Safety Council Standard First Aid Training & CPR Basic Level 1 - Gastite Certificate / 636 Venting Certificate Work Experience SDS Excavating, Hamilton, ON Operator/Laborer October 2015 – Present - Sewer Service / Water Service / Excavation / Demolition / Grading / Site Preparation Agri-Plastics, Grassie, ON Machine Operator February 2015 – May 2015 - Operated rotational molding machine / Trimmed & finished products with air tools Dougs Services, Oakville, ON Landscape Technician September 2013 – November 2014 - Maintained Properties / Construction / Operated mowers/ trimmers/snow plows Kulig Contracting, Grimsby, ON Laborer June 2013 – September 2013 - Built portable classrooms for T.D.S.B./ - Operated power tools/ - Measured materials References Mark De Simone, Project Manager Doug Murdoch, Owner Kyle Addison, Supervisor SDS Excavating Dougs Services Agri-Plastics --...
Training
You have been trained as:
Share This Profile
Find Plumber Jobs in Hamilton, Ontario
More jobs in Hamilton, Ontario